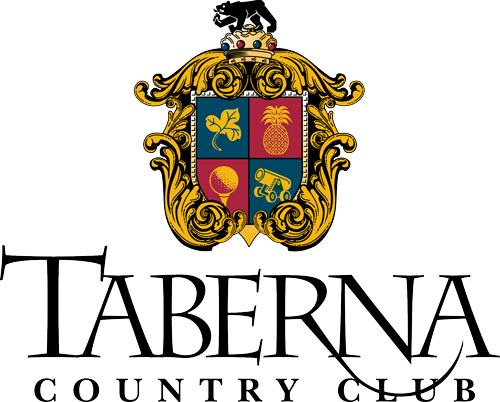 Taberna Country Club is a private facility. We want you to have an amazing experience playing our championship golf course. Please follow these policies and procedures to make sure you enjoy some R&R on the course,
Relaxed & Respectful.
Checking In
·        All members and guests are required to check in before. No exceptions.
·        Please come into the Pro Shop or call at 252-634-1600 ext. 1
·        If you play holes from your house to the club please call the Pro Shop to make sure you are all clear.
Dress Code
·        Men are required to wear a collard shirt or mock turtleneck. Ladies may wear a collarless shirt. There will be no tank tops or T-Shirts allowed.
·        Jeans (Denim), Cutoffs, Athletic Short, Cargo Shorts, Swimsuits, Sweatpants, and Flip-Flops are not allowed on the course and practice facilities.
·        Shirt tales are strongly recommended to be tucked in and hats must be worn forward at all times. No backward hats allowed.
·        Children ages 13 & Under may wear athletic clothes on the course and practice area.
Course Rules
·        Only TWO golf carts are allowed per group.
·        Cart Path Only on all Par 3's
·        Put sand in divots and repair ball marks on the putting green.
·        Rake all bunkers (including your footprints).
·        Pick up all your trash and debris. Example: If you smoke on the property please pick up your cigarette butts and place them in the trash can.
Cart Rules
·        Cart Path Only – Carts must stay on the path at all times.
·        90-Degree Rule – Please stay on the cart path until you can make a 90-degree angle to your golf ball.
·        Scatter – Carts can leave path at the beginning of the fairway and exit to the cart path near the exit pole.
·        Handicap Flags must park in the designated parking spot. If there is not a designated spot then you may park 25 yards in front of the green.
·        Keep all four wheels on the cart path when parking near the tee box and putting green.
Pace of Play
·        All groups playing at Taberna Country Club will be expected to follow the Pace of Play Guideline as determined by the Head Golf Professional.
·        All foursomes are expected to maintain a 4-hour pace for 18 holes.
·        Failure to maintain this pace of play will result in your group being notified to be moved back into proper position or to allow the groups behind you to play through.
·        Ready golf is strongly recommended and will help out tremendously with pace of play.
Food & Beverage
·        Outside food and beverage are NOT permitted at Taberna Country Club.
·        Our Pro Shop is open and accepts cash or credit cards for the purchase of food & beverages needed before the round. Our dining room is open year-round 11am-4pm for lunch, take out (252.634.1600, Ext 3) on the turn or for dining-in is available as well.
·        Alternatively, in the summer months, our Par 3 Snack Bar at the pool house on the turn is open from 11am-4pm, weather permitting.